Freedom Sworn sword in Genshin Impact: Stats, passives, refinement details, and more leaks about the new 5-star weapon
Details about Kazuha's signature weapon, Freedom Sworn, have recently been leaked to Genshin Impact fans. Genshin Impact leaks are always subject to change. However, they tend to provide reliable guidelines for what fans can expect to see in the game in a future update. Freedom Sworn will be an interesting sword to collect for some…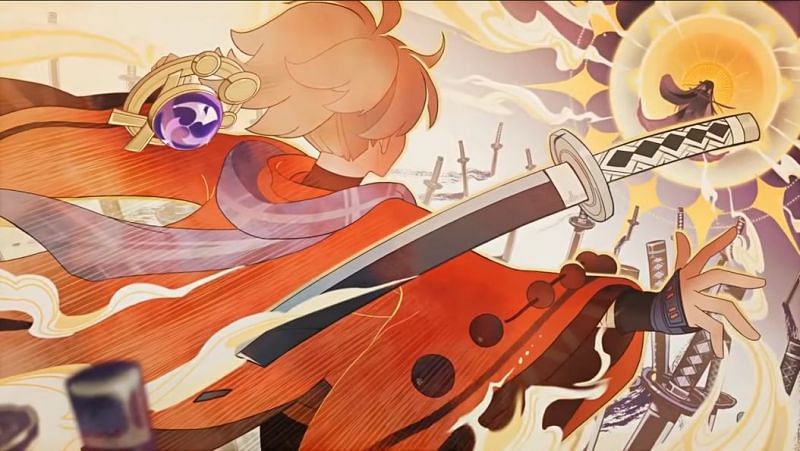 Details about Kazuha's signature weapon, Freedom Sworn, have recently been leaked to Genshin Impact fans.
Genshin Impact leaks are always subject to change. However, they tend to provide reliable guidelines for what fans can expect to see in the game in a future update.
Freedom Sworn will be an interesting sword to collect for some Genshin Impact players, especially if they have a character like Kazuha who will synergize nicely with it.
---
Freedom Sworn sword details in Genshin Impact
Freedom Sworn is a five-star sword that is widely believed to be Kazuha's personal weapon. Its secondary stat is Elemental Mastery, which should work wonderfully with Kazuha's passives. Its in-game description is as follows:
"A straight sword, azure as antediluvian song, and as keen as the oaths of freedom taken in the Land of the Wind."
Freedom Sworn's stats in Genshin Impact
Freedom Sworn's stats in Genshin Impact are as follows:
Level 1: 46 Base Atk, 43 Elemental Mastery
Level 10: 82 Base Atk, 59 Elemental Mastery
Level 20: 122 Base Atk, 76 Elemental Mastery
Level 30: 194 Base Atk, 94 Elemental Mastery
Level 40: 235 Base Atk, 111 Elemental Mastery
Level 40+: 266 Base Atk, 111 Elemental Mastery
Level 50: 308 Base Atk, 129 Elemental Mastery
Level 50+: 340 Base Atk, 129 Elemental Mastery
Level 60: 382 Base Atk, 146 Elemental Mastery
Level 60+: 414 Base Atk, 146 Elemental Mastery
Level 70: 457 Base Atk, 164 Elemental Mastery
Level 70+: 488 Base Atk, 164 Elemental Mastery
Level 80: 532 Base Atk, 181 Elemental Mastery
Level 80+: 563 Base Atk, 181 Elemental Mastery
Level 90+: 608 Base Atk, 198 Elemental Mastery
Freedom Sworn's Passive + Refinement details in Genshin Impact