The key visuals of "My Hero Academia Season 5", which is scheduled to start broadcasting on March 27, have been released.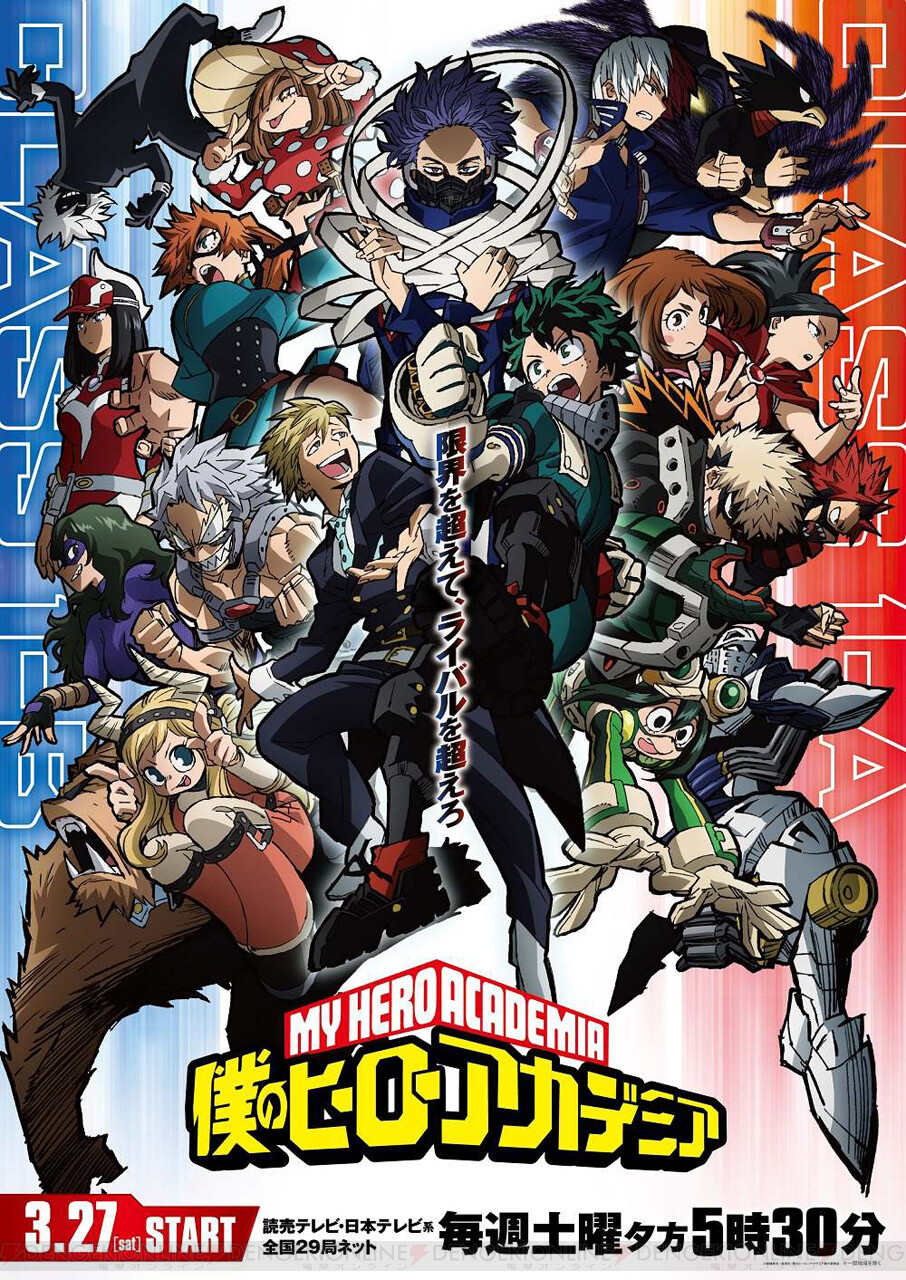 My Hero Academia Season 5 New Key Visual Lifting!
The cumulative circulation of the series has exceeded 30 million! Serialized in "Weekly Shonen Jump" (published by Shueisha), the popular comic "My Hero Academia" by Kohei Horikoshi, commonly known as "Hiroaka".
This work is set in a world where the existence of people with supernatural abilities called "individuality" is commonplace and the main character, Izuku Midoriya, commonly known as "Deku", protects society and abuses individuality. It is a jump royal road hero action that goes straight through "friendship, victory, effort", where the story of growing up with friends at the prestigious hero training, Yuei High School, unfolds in order to become a "hero" who confronts "villain".
 Five years after the start of the TV anime series broadcast in April 2016, 2021 will be the "5th Anniversary Year", and on Saturday, March 27, the fifth season of the latest TV anime series will be every Saturday at 5:30 p.m. Started broadcasting on the Yomiuri TV / NTV 29 stations nationwide. To that end, the latest key visuals have been unveiled!.
 This visual drawn by Yoshihiko Umakoshi, who has been in charge of character design for the anime Hiroaka from the 1st term, is based on the theme of "Yuei High School Hero Department 1st Grade A vs. B Group Battle Edition" that will be developed first in the 5th term. It has become.
 A total of 19 characters are depicted, centered on the main character Deku who belongs to Group A, Yasuto Monoma, who is the main character of Group B, and the psychic messenger who only participates in the general course and causes turmoil.
In the visual production. Mr. Magoshi said, "Of course, there are a lot of children who show impressive performances, but each child has a place to show I would like everyone to have a group picture, but That's not the case Still, the group picture of Professor Kohei Horikoshi always conveys the feeling that I want every child to be, I hope I can express that feeling as much as possible. "
 What kind of activity will Group A, Group B, and Mind in the first year show in the main part of the anime?
 In 2021, the 5th season of TV animation will start broadcasting on Saturday, March 27, and the first exhibition of the original "My Hero Academia Exhibition DRAWING SMASH" will start on Friday, April 23, and in the summer. The third anime movie version, which is supervised by the original author Kohei Horikoshi and drafted the character, will be the national roadshow and will be the hero academia.
My Hero Academia S5 Work Overview
Broadcast date and time
The broadcast starts on Saturday, March 27, 2021!
Staff
Original: Kohei Horikoshi (serialized in Shueisha's "Weekly Shonen Jump")
General Director: Kenji Nagasaki
Director: Masahiro Mukai
Series Composition / Screenplay: Yosuke Kuroda
Character Design: Yoshihiko Umakoshi / Hitomi Odashima
Music: Yuuki Hayashi
Animation Production: Bonds
Cast
Midoritani Dehisa: Daiki Yamashita
Katsuki Bakugo: Nobuhiko Okamoto
Urarabi Ochako: Ayane Sakura
Tenya Ida: Kaito Ishikawa
roar Aseko: Yuki Kaji
Setsushima Surudojiro: Toshiki Masuda
Tsuyu Asui: Aoi Yūki
eight 1000100: Marina Inoue
Fumikage Tokoyami: Yoshimasa Hosoya
Monokan Yasushihito: heaven Yamazaki Hiroshitaira
Kobushifuji IchiKei: Saki Ogasawara
TetsuAkira ToruTetsu: Koji Okino
Awase Yoyuki: Yoshitsugu Matsuoka
Shiozaki thorns: Miho masaka
Kokoromisao Human messenger: Wataru Hatano
Shota Aizawa: Junichi Suwabe
All Might: Kenta Miyake
Related News: